By Marlena De Lacroix  a.k.a. Connie Passalacqua Hayman
With all the cancellations these past few years, this old soap enthusiast  is thankful to have at least one soap to look forward to, and yes, cuddle up to in my afternoons. That soap is General Hospital, a doomed show I really want to see live on.  I watch
The biggest soap opera of all is the on-going cliffhanger of what will become of GH itself. I still want to have one involving  soap to look forward to every day, no matter how much I bitch about it.
every day, basically liking the day to day writing and production of the  episodes and the  performances . But of course as a critic, I still have objections to some of the overall stories.
For example:  Maxie is impulsive (such as when she slept with Franco) but she is not stupid.  She's way too shrewd to have gone to trial and to jail for any man, let alone Matt the amnesiac killer of the long dead Lisa Niles. Except for the wonderful Spinelli-ness (fighting to clear Maxie's name) of our adored Bradford Anderson, this story was a big, drawn out waste.  I'm so glad it's over. Then we have Jason staying emotionally away so long and being separated  from the pregnant wife Sam, in effect blaming her for rape by his twin-brother Franco.
Do I detect misogyny in that part of the Sam pregnancy story?  Sure, I knew the separation was a plot device to give Sam more time to bond with John McBain.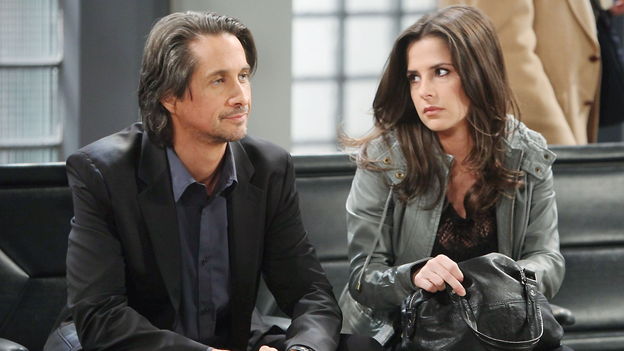 And even though Jason eventually came around and told Sam he could accept the baby (after the baby was delivered and "died") Jason distancing himself emotionally from his wife for so long  because she conceived the child (supposedly!) of his nemesis Franco, via rape, was essentially a whiff of something I never wanted to smell on an ABC soap again.
For a change, Jason is at least paying for something (as of this writing) by losing Sam after she found out that his thugs beat up McBain just after the delivery, causing, as Sam believes, the death of "her" baby. But will Jason ever be punished for his insensitivity to his pregnant wife? How long will Sam and Jason be apart?  Also, do you really think Jason will ever pay for the death of Franco?
Oh well, I can't help asking this question even in the middle of a friendly review: Think about it — has GH really changed at its core since Guza left? Oui, mes amies, it's better written, more entertaining and less blatantly offensive.  But Guza still casts a long shadow: witness more misogyny and the same old  antics of the "good" bad guys, Jason and  Sonny, who to this day have hardly ever paid for their misdeeds. As long as murderers Sonny, Jason (and now Johnny and Heather) walk free, this show still doesn't know right from wrong. I've always maintained this is the real reason GH's overall ratings have sunk so low.
And I can't believe I'm so desperate for engaging soap during the daytime that even moi, moraliste Marlena, is choosing to overlook this by watching faithfully.
On the other hand I can't even get mad, as many fans are, that headwriter Ron Carlivati is repeating  his One Life to Live storylines so soon.  So what if the current baby switch of Tea's dead baby and Sam's baby is similar to the not so past switch of Jessica's and  Starr's babies on OLTL?   I remember the original baby switch story on daytime, when Jenny Vernon's dead baby was swapped for Katrina Karr's live one on OLTL in the early 80s.  My objection to baby switch stories isn't just that they have become cliché —  it's  that  they are too time-consuming.  The Jess and Starr baby switch took seven months to play out. Does GH even have seven months to live?  At least from what I'm seeing right now, Carlivati seems to want to express this story, and I'm hoping  he might even give it a never-before-seen  a new twist.
But,  let's get to some good stuff …
Veteran Marlena fans know I am a lifelong Todd hater, but I've been loving Roger Howarth's renowned  acting here, as Todd committed his umpteenth illegal act by participating in the baby switch. Howarth is a gem — like I really have to tell you!.  I'm also a new Michael Easton (John) fan since he and Kelly Monaco (Sam) have shown more super-couple sexual chemistry than any soap couple has in decades.  (Yes, I know they played love interests Caleb and Livvie on Port Charles.)
The returned Heather shows exactly why Robin Mattson (GH originally from 1980-82, Santa Barbara, All My Children) is a charter member of the Soap Villainess Hall of Fame.
("Why do I get away with everything?" Heather asked herself just last week? LOL!)   But she's an iota too loony for me (a la OLTL's Allison Perkins). Heather needs a real talk-to like her mother Alice (is she still alive?) to underscore that her motivations are more complex than just sheer evil and that she's psychotic.  And she really needs that talk-to to stop her from talking to herself all the time!
I do think the entire GH cast has been reenergized by the new writing and production regime.  Everyone has noticed the great acting growth in Brandon Barash  as Johnny (as he became a triple murderer), and Jane Elliot seems like she is  having fun again  as Tracy. That Finola Hughes' Anna  is as divine as ever as Port Charles' new police chief  is a given.
I don't know what to expect as the solidly Carlivati-conceived stories take over for the summer, but I worry — the reality show ripoff instigated by the return of Kristina (Lindsey Morgan is a real find) looks already to be a bust, and doesn't bode well.  And all I can do right now is wait for the rest of the Connie/Kate D.I.D story. I'm still laughing at those semi-camp Connie in the Kate's mirror scenes.
But allow me to speak out in defense of Kelly Sullivan as Kate.  No one in years has so graphically spilled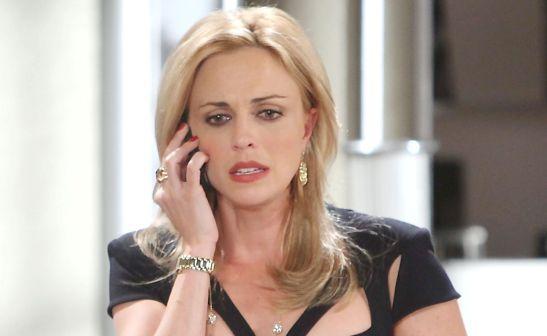 their guts all over the TV screen on daytime drama. After all, unrestrained gut-spilling has always been pure soap opera.  I really admire the actress' willingness to let it all hang out.
I'm still waiting for a bone fide love interest for Alexis. Although Mac and Alexis never  had a real romance and Mac has been fired as police chief, I'm glad John J. York reportedly isn't being written off the show as sweet Mac.Kristina Wagner has been weak, as always, in her return  as Mac's ex-wife Felicia   Despite this one misfire, I can't wait to see what other veteran characters/performers the show brings back next.
Of course, the biggest soap opera of all is the on-going cliffhanger of what will become of GH itself. I fear the coming debut of Good Afternoon, America, which if it succeeds will squeeze GH off the ABC afternoon schedule for good. As I said, I still want to have one involving  soap to look forward to every day, no matter how much I bitch about it.