Thinking Fans Comment Update October 2:  Lois chronicles soaps'  long history of bloody brides (who knew?) … Cat complains that The Shooting was ripped off from The Godfather Part III … while Cyber is just tired of bad, repetitive writing … and more. See Comments below. 
______________________________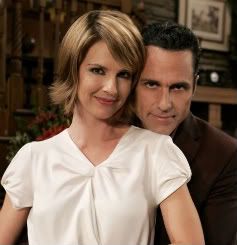 The occasion of yet another one of Sonny's love interests being shot by a Mafia enemy, this time right before the wedding ceremony of Kate (a.k.a. Connie Falconeri) and Sonny started, triggered a high decibel  phone call between my friend Ed Martin and me.  As we have both watched General Hospital forever, we were furious with yet another cliche Guza plot,  which is an insult to our joint intelligence.  Ed bitched the circumstances of the shooting, and I bitched about how sick I am of Italians being portrayed as stupid mob stereotypes.  You see I'm really Italian and really a Connie …
                                                                                                                   Marlena
                                                                                                                    XXXOOO
____________________________________________________________
GENERAL HOSPITAL GUNS DOWN KATE — AGAIN!
By Ed Martin
No soap opera exasperates me quite as much as General Hospital. Latest case in point: The shooting of Kate Howard.
I haven't been paying much attention to GH of late, largely because I find the mobsters and their ladies to be increasingly uninteresting, and also because — after too many years of withdrawal — I am finally getting a very satisfying classic GH fix from Night Shift on SOAPnet.
But I did tune in Friday for the wedding of Sonny and Kate, and here's what I saw: Kate and her cousin Olivia, with whom she was recently reunited after a separation of twenty years, engaged in a loud, embarrassing argument in the back room of the church, with Kate unaware that she was humiliating herself for the enjoyment of her two nemeses, Carly (who had threatened to kill Kate just a few days earlier) and Claudia (who menaced Kate months ago when she lay helpless in a hospital bed). In a telling closeup,
This isn't simply repetitive storytelling, or storytelling that I don't find appealing. This is bad soap writing, plain and simple.
Carly was the picture of crude contentment listening to Kate, likely realizing how humiliated she would be when she later learned that everyone in the church heard all the ugly details of her battle with Olivia.
I was waiting for the ferocious spat between Kate and Olivia to degenerate into a clawing catfight. Mercifully, that did not occur. But then something worse happened: Kate got shot at the altar! Now she's once again fighting for her life at the hospital while Sonny throws more tantrums and barks at the staff.
Been there, done that. Kate took a bullet a few months ago and only recently completed her recovery. Who decided that it would be entertaining for viewers to see her gunned down once again – this time after an intensely awkward and embarrassing experience? For that matter, wouldn't the shooting have had a greater emotional impact without being preceded by the ugly fight between Kate and Olivia? This isn't simply repetitive storytelling, or storytelling that I don't find appealing. This is bad soap writing, plain and simple.
I thought the addition of cosmopolitan Kate to the GH canvas was intended to provide sweet relief from the ongoing madness of its mobster stories. Instead, she has been pulled into the rotting, redundant remains of what was once a fun, vital and entertaining serial.
The only satisfying moment in this entire mess came when Monica put Sonny in his place, reminding him of all the people he has known who have suffered and died just because they were a part of his life (including several of her loved ones). I assume Olivia is next in line to fall under his spell and in turn be felled by an assassin's bullet a year or two from now. In the meantime, if Kate survives, I assume Carly will learn her dreaded secret and torment her anew, or threaten to kill her again. (The buzz online indicates that Kate had a child long ago and that the kid may have been Sonny's.)
Fortunately, I can escape all of this nonsense over on SOAPnet with the increasingly popular Night Shift, where there isn't a mobster in sight.
__________________________________________________________________
MISOGYNY AND MEATBALLS:  BASTA ALREADY WITH THE ITALIAN STEREOTYPES ON  GENERAL HOSPITAL!
By Connie Passalacqua Hayman  (a.k.a. Marlena De Lacroix)   
What a surprise — more misogyny and violence on General Hospital!   You can't ask for a better example of woman-hating than having Carly and Claudia make fun of the bride's private fight with her cousin on her wedding day.  Well, maybe yes you can — bang bang!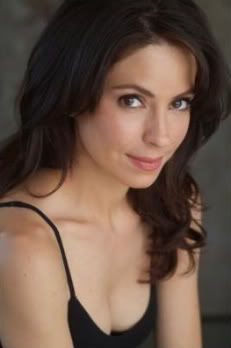 As a real Italian-American named Connie who was born in Brooklyn, I must say this now.  Enough already of the goomba Italians from Brooklyn who are mobbed up on GH.   Now they've introduced yet another Brooklyn Italian character, Olivia, who is supposedly Kate's (a.ka. Connie Falconeri's) cousin. And soon as I heard that dumb Italio-Brooklyn accent coming out of actress Lisa LoCicero's mouth, I wanted to scream "Basta!" (That's means "enough"  in Italian!)
My family, the Passalacquas, were Italians from Brooklyn and they certainly did NOT talk like "dis." They were a big loving family, all  hard working immigrants, not criminals.  They had a fruit market, and for decades after this my father, Cosmo, joked that they were "fruiterers of distinction."  They certainly were not criminals. I never ever heard the word mob or Mafia uttered in their house.  So why should they, and all Italians, be stereotyped as such?  Stereotyping Italians is as bad a stereotyping Jews, African-Americans, Asians and every ethnic group.
Years ago I interviewed Claire Labine, who created Sonny in 1993, and her writer daughter Eleanor and writer son Matt in Claire's brownstone in the patrician Park Slope section of Brooklyn. At the time they were writing Guiding Light.  They couldn't get over how Sonny, the two bit street criminal and pimp they had originally created years ago, had become so popular— the Marlon Brando of soaps,  il capo di tutti capos. But they never meant for GH to become totally dominated
I am so sick of Italian mob stereotypes on GH, so sick of Sonny and his clichéd world, so sick of Guza! 
by the Mafia (as it was transformed into by their successors and the  current  headwriter, Mr. Guza).  The Labines  knew the world of Italian Brooklyn well — it lay just across Prospect Park in Bay Ridge and out into Bensonhurst. Eleanor, whose married name at the time was Mancusi, patiently told me she and her family had also been  interested in affectionately portraying the good and humorous Italians — the overwhelming majority — who lived in Sonny's Bensonhurst, too. Remember the other Labine creations, the endearing Lois Cerullo, (Rena Sofer) and her good hearted mom, Gloria (Ellen Travolta)?  Lois was one of GH's most popular and beloved characters ever.
But of course, mob stories and the character of Sonny rules Guza's violence-ridden GH and as such, we'll never be free of characters turning up from Bensonhurst as mob-related stereotypes.  Lisa LoCicero is a terrific actress (I interviewed her when she played Jocelyn  on The City) and already her character Olivia  has guts and has shown she can stand up to Sonny. 
Also, a new Italian character Maximus, played by The Sopranos' Vincent Pastore (the infamous Big Pussy) will show up in Port Charles soon as the father of Sonny's bodyguards, Max and Milo Giambetti. Will Maximums  be mobbed up and talk like "dis"? What do you think?
I am so sick of Italian mob stereotpyes on GH, so sick of Sonny and his clichéd world, so sick of Guza!  I guess I'll have to eat more manicotti and meatballs to console myself.  My grandmother Concetta (after whom I am named) passed down the recipe to me.   You see the secret to being a real Italian is both knowing and enjoying the food AND understanding the real people.  Bullets are for stupid, lazy writers whose only real connection to my culture is copying the pulpy works of Mario Puzo.