By Marlena De Lacroix
The star of the 2008 Emmys was a body part your mother blushingly called your "backside."  Stars couldn't stop talking about derrieres, and wound up acting a lot like them.
"Oh, oh, I love your butt,  what a cute little butt, I'd take that cute little butt," All My Children's Rebecca Budig (Greenlee) squealed as she checked out Bryan Datillo's on the SoapNet Emmy PreShow, which Budig was co-hosting with Ricky Paull Goldin (Jake, AMC).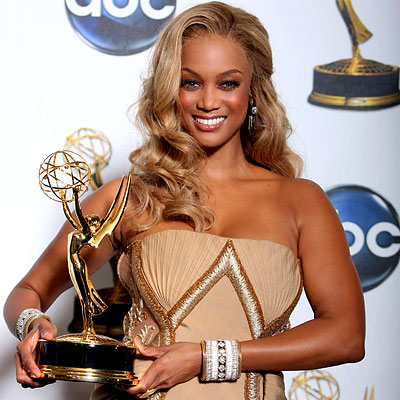 And then there was Tyra Banks' acceptance speech for Best Talk Show:  "When you have a dream, there are going to be many people that tell you that you cannot do it, that you are not good enough. And I want you to tell them to kiss your dimply, fat, juicy, booty-licious, skinny, jiggly, saggy, fat ass."
Marlena isn't ordinarily a prude about language.  But these are the Daytime Emmys, the once a year gathering that is supposed to salute excellence and reward the very hard work talented people do in daytime drama every day.   Generations of producers, performers and journalists have fought to make sure the Daytime Emmys remain respectful both to the soap world, and intelligently inviting to the outside world, where soaps are incredibly still looked down upon today.  When I told an Upper East Side matron I've been sitting next to on Jury Duty this week I was going home to watch the Daytime Emmys Friday night, she replied incredulously, "Oh they give awards … for soaps?"
The fact that I have to tolerate Rex (Jon-Paul Lavoisier) and his ex-waitress diner sweetie Gigi (Farah Fath) having conservations that include the word "crap" five times in one episode of One Life to Live is just my cross to bear.  No one outside our doggedly loyal community is paying any attention.  But when young stars like Rebecca "talk butt" in the name of being cute and current on the Emmys while the world is watching in primetime (well, some of the world, anyway — this was the lowest rated Daytime Emmys ever) puts a pretty unappetizing face on daytime.  It's yet another demonstration of how the daytime industry is shooting itself in the foot.
Well, at least a few touches of class were evident sporadically throughout the show.  My personal fave moment was when Ron Carlivati won the Outstanding Writing Awards and gave thanks to senior cast members Robin Strasser, Erika Slezak and Bob Woods.   I also thought Gina Tognoni (Dinah, Guiding Light) looked tall and very Cyd-Charisse-in-the-60s in her beautiful red silk gown when she accepted Outstanding Supporting Actress and said, "I want daytime to live a million more years and I want to work on it."  As a fashion co-host of the Emmy pre-show Finola Hughes had to fill the last five minutes with an impromptu speech.   She talked about great daytime soaps are and quite convincingly explained why everyone should watch them now.   What a pro!  What an actress!   If she was acting that very inspirational speech, then Finola should have gotten an Emmy.
Every year Marlena says the Daytime Emmys are great only when someone you want to win actually wins. So I was happy for Jeanne Cooper.  In her marvelously idiosyncratic acceptance speech for Outstanding Actress (at last), Cooper kept repeating the word '"lousy." (She called everyone connected with the show creatively "lousy" and then joked that that's why The Young and the Restless is number one.)   Anyway I'd venture that the word  "lousy" was certainly a word Cooper was never allowed to say in the early days of TV.  But only in Jeanne Cooper's mouth can the word "lousy" sound like poetry!  Love that gal, who is 80 this year!
My only other observation about the awards themselves:  I wonder why so many of the awards went to performers who had won them before — for example, it was third for Outstanding Younger Actress for Jennifer Landon, the second for Tom Pelphrey as Outstanding Leading Actor, the second for Tognoni as Supporting Actress, and seemingly the zillionth Outstanding Acting Award for Tony Geary.  (Okay, this was Emmy number six).   Is it because this group of retiring performers is so phenomenal?    Or does the kind of increasingly schlocky plot-centric or plot stun material being written right now NOT give  talented and upcoming actors any opportunity to do the kind of deeply psychological work that wins prizes anymore?   You tell me.
Just four days after watching the Emmys on TV what I've been thinking about is the grossness of the varicose veins shown on the pre-show's "Shoecam" by Judge Judy.  Yikes!  Talk about classless TV!   I'm also wondering what's happening to the children's shows awards, recognizing the creativity of programming that used to be the pride of daytime. I remember meeting PBS denizens  Mr. Rogers and Elmo years and years ago at the Daytime Emmys.  Now the kid show awards are relegated to the untelevised part of the awards and on the main show we get the tacky Court Show awards.  Who the hell is Judge Cristina of Outstanding Court Show winner Cristina's Court?  "Marlena, it's the celebration of the cheap," explained my soap expert friend, whose comments are often published here under the moniker pjs.  He knows from budgets because he works at PBS.
And of course, no discussion of lack of class at the Daytime Emmys 2008 can be complete until we mention the Oustanding Drama Series General Hospital.  Mobbed up, shoot'em up, cheap thrills General Hospital.  The Metro Court hijacking sequence must have been submitted for Best Show and surely wowed really wowed the Emmy voters.   (That month of the show even wowed moi!)   So when Jill Farren Phelps accepted the award and started riffing on the sympathy those at the show had for recent flood victims in the Midwest,  I seriously wondered what planet she had spent her day shopping on. Jill, if you can make such a display of class at the Emmys, certainly the same concern for humanity can be channeled into producing a show that doesn't offend us every day?
I've bashed ABC Daytime VP Brian Frons and Herr Guza six ways from Sunday this past year for the obsessiveness of  the show's violence, sexism and little regard for the feelings of the traditional female audience.  I was wondering at the Emmy afterparty if Frons and Guza were toasting each other, wondering how much lower they could take the show next year?  Hey, we haven't had a rape in a while!  Could it perhaps be revealed that Claudia is really a man?  Who knows what they have in mind?
But next year, I'd like to see a Daytime Emmys that at least makes concerted and collective attempts to digniify daytime dramas.  And which sincerely salutes all whom are working so hard to  keep them alive!