Douglas Marland:  May 5, 1935 – March 6, 1993 
By Patrick Erwin
We continue our celebration of the life and work of Douglas Marland with some more memories from the people who performed Doug's work on a daily basis — the actors. Today we're featuring comments from two gifted performers who worked with Doug on As The World Turns, Hayley (Barr) Sparks and Tamara Tunie, as well as Michael Tylo, who played Quinton Chamberlain on Guiding Light.
Hayley (Barr) Sparks
MARLAND MOMENT: Known as Hayley Barr during her years on As The World Turns, Sparks played Courtney Baxter. Courtney was the "girl next door," but her insecurities made her doubt her intelligence and her natural beauty. Doug eventually explored those doubts and feelings that Courtney had when the character developed an eating disorder and became bulimic. Romantically, Courtney was married for a time to Andy Dixon.
SPARKS SAYS: "I remember that Douglas seemed to care a lot about the characters he created and wrote storylines that stayed true to character and not simply to move plot along. This is very difficult to do on a soap and made the work as an actor much easier.
"I played Courtney Dixon and my character had an eating disorder; this was at a time when the subject hadn't been dealt with much on television. They started this story fairly soon after I began on the show. The actors were often the last to know about story. I distinctly remember being in a scene where the actor playing my brother asked me, 'Are you going to eat ANOTHER piece of cake?' It was the third or fourth comment written into the script about my eating or weight, and I was like, 'What the hell?' So I went up to the producer's office and said, 'You know, if you want me to lose weight, just tell me!' Well, he laughed and promptly told me the storyline they were planning. He was a really good man and it was a pleasure to work for him."
TODAY: Sparks lives in New York City with her husband and son, and has a career as a professional photographer. Sparks' work can be seen at her website, http://www.hayleysparks.com/.
Tamara Tunie
MARLAND MOMENT: Tunie's Jessica was, at first, strictly business as one of Oakdale's leading lawyers. Doug (and Tunie) eventually explored Jessica's layers and showed viewers who Jessica was, and where she came from. One of the most captivating ATWT stories involving Jessica was her interracial romance with Duncan McKechnie. Doug's writing subtly explored the feelings of Jessica and Duncan's friends, especially Lisa, who had trouble dealing with their relationship.
TUNIE SAYS: "I was truly blessed to join the cast of As The World Turns at a time when there was no better head writer in daytime television than Douglas Marland! Doug was an amazingly brilliant writer who could take a cast the size of As the World Turns, which I believe was about 45 characters during his reign, and weave amazing stories for all participants. Besides writing your typical "who's sleeping with whom," "who is the real father of Baby So-and-So," and "Will Craig win Betsy's love," he had a social conscious and felt it his duty to challenge his audience with subjects such as homosexuality, euthanasia, AIDS, and racism.
"He was also the kindest, most generous person I have ever met.  I was fortunate enough to become friends with Doug and our relationship "off-campus" was the most important thing to me. He was there for me in so many ways, including my Broadway opening of OH KAY!  He sent the largest most beautiful flowers of all and cheered the loudest at the curtain call!
"You loved receiving a present from him because he always wrapped his Christmas gifts personally.  No one could make a most fabulous bow better than Doug.  (In his youth, he worked at a florists' shop, and never lost his skill with a ribbon!) When he was on Lifestyles of the Rich and Famous, he invited Ellen Dolan and I to share the day, and the camera, with him. Sometimes, he would hire a yacht, and island hop in the Caribbean with invited guests.  All you had to do was show up at the dock.  A couple of times, I was lucky enough to be one of his invited guests.
"He was an actors' head writer.  Having been an actor himself, he knew the importance of actors continuing to work outside daytime, to continue to strengthen their 'chops,' and always made it possible for me and my fellow actors to do theater, primetime TV, and feature films. I guess I am a multi-tasker because of Doug. He never said, 'No, it won't work.'
"When Doug so suddenly died, my heart broke.  I continue to miss him and think of him more than often, especially when I am watching As the World Turns.  It was never the same after Doug. He was a bright light in my life, and one of my guardian angels since his death.  I will always consider myself having been graced with the energy that was Douglas Marland!"
TODAY: After leaving ATWT a few years ago, Tunie has continued to act, appearing in a recurring role on Law & Order: SVU. Tunie has also been a producer for several Broadway plays, including the Tony Award-winning musical Spring Awakening and the last play by the late August Wilson, Radio Golf.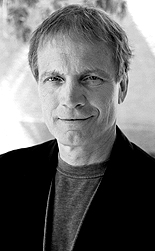 Michael Tylo
MARLAND MOMENT: Tylo worked with Douglas Marland when Marland wrote one of the stories for  which he is best known — the romance of Quint and Nola on Guiding Light. The pairing of the two characters — unconventional, but classic – became a fan favorite and still has a strong following to this day. Tylo played Quint from 1981 to 1985.
TYLO SAYS: "Doug Marland was not only a great writer, he was a good man. He was one of the last who learned his craft from Irna Philips. He knew what an excellent narrative story was and enhanced it in such a way as to not only please his audience but to bring in "new" viewers as well. Quint and Nola, for example, was never duplicated, nor could it be. This storyline encompassed two characters from two different worlds, who through their relationship, love and marriage touched the hearts of millions. This is just one of many contributions Doug made to an industry he loved and has sorely missed him — and needs him. Doug was a great friend, and on a personal level, helped me through tough times and never wanted anything in return. I loved him and I miss him. Now that I'm a professor at University of Nevada Las Vegas, when I teach daytime drama, it is always a pleasure to lecture on Doug's contributions and say that there will never be another like him."
TODAY: After playing several other roles in daytime, Tylo became a teacher.  He is now  assistant professor of film and theater at the University of Nevada Las Vegas.
Wednesday, Patrick takes a look at the characters and storylines that Douglas Marland crafted for his shows, what they meant to us then, and why Doug's work is still relevant today.