By Ed Martin
As General Hospital executive producer Frank Valentini, head writer Ron Carlivati and their team proved last week with their remarkable 52nd anniversary episode – arguably the most creatively ambitious hour of daytime drama ever produced – nothing is impossible in the soap opera arena. They somehow managed to expand the collective history of many of the show's primary and secondary characters – dating all the way back to the very first episode in April 1963 – without actually rewriting any of it, something far too many reckless soap opera writers have been allowed to do over the years.  I am still stunned (in a good way) by what I saw.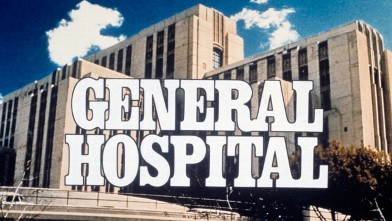 For any soap opera, the right writers can correct the egregious storytelling errors made by past creative regimes – particularly those that were unpopular with audiences and perhaps drove viewers away. This is something the showrunners and writers of the four remaining broadcast soaps must keep in mind if the genre is to survive. It's all about giving the audience what it wants. Viewers must come first, above and beyond the desires and demands and preferences of actors, writers and everyone else involved.
Fans will accept just about anything if soap opera writers give them what they want, and if given what they want said fans are more likely to stick around. That brings me back to GH, which since the beginning of this millennium has forced fans to endure too many punishing blows by killing off popular characters, most of them "good" people, while murderers and psychopaths survive and thrive. The 2000s in particular were an ugly mess, one that compromised the ratings of the show (especially among the young) and contributed to the overall deterioration of its genre. (As I have always said, "As goes GH,  so goes daytime drama.")
I can think of no better way to keep the love alive and encourage from long-time fans of GH the same kind of renewed enthusiasm that exploded last Wednesday after that outstanding episode than to bring back some of the popular characters that have been killed off over the years seemingly without regard for the preferences of veteran viewers or for anyone who had been encouraged to follow the stories of those characters for many years (or several decades). If these characters are brought back they need not stick around; they can always recur or move to Europe to join Laura, Rebecca, Faison, Britt and Robin, among other Port Charles transfers.
The point of bringing these characters back would in most cases be to simply correct past mistakes, some of them whoppers. Other returns simply make sense in terms of enhancing current story. (Recasts for any of them should be embraced if necessary.) Here are the dearly departed who should be among the returned.
Jake Morgan Spencer Webber – I can't imagine anything more ghoulish than learning that the boy we thought was adorable little Jake – son of Elizabeth Webber and Jason Morgan and adopted son of Lucky Spencer – was actually another unfortunate child substituted in Jake's place on the night of his "death" by Helena Cassadine or some other evil-doer. But I think I could get past that if GH brought back the only character on its ever-expanding canvas who was related (by birth or adoption) to every major family going all the way back to 1963. He was part Hardy, part Webber, part Quartermaine and part Spencer and, I once thought, central to the future of the show. When he was killed off in a soggy sweeps stunt it was as if ABC was foretelling the end of the show. But GH is still with us and Jake should be, too. (Seven cars drove past Elizabeth's house that fateful night. We only learned who was behind the wheel of six of them, including Luke, who supposedly hit Jake. This vulgar and unpopular story could be undone if careful choices are made as to who was in the seventh car and what he or she did.)
Emily Quartermaine – This one is a no-brainer, especially because Emily's audience-repelling death at the hands of an already forgotten serial killer (in yet another short-term sweeps stunt) was followed by yet another awful story turn in which viewers learned that Emily had a long-lost twin named Rebecca. (Also, Emily died off screen, so that helps.) Let's find out that Rebecca is really Emily, then exhale and get on with things. She is a legacy character who came to the canvas during the story of Dr. Monica Quartermaine's heroic battle with breast cancer, one of the most important in the history of the show. Emily deserves better.
Georgie Jones – I feel the same way about Georgie as I do about Emily. She was too important to the show and too popular with viewers to be killed off in a lame sweeps story. (She was murdered by the same serial killer who killed Emily.) Georgie came to the canvas during the unforgettable story about the death of BJ Jones and the decision to transplant her heart into Georgie's sister (and BJ's cousin) Maxie, who is still a vibrant character on the show. Every story Maxie has been caught up in since Georgie's death would have been better if Maxie had been able to confide in her younger, smarter, wiser sibling. The mostly female soap opera audience would surely respond to the inclusion of sisters who are very different but always support each other through thick and thin.
Rick Webber – I don't know where to begin with this one. Dr. Rick Webber was one of the true heroes of the show during its late-Seventies-early Eighties heyday, but when he was brought back on a short term basis in 2002 he had become a nasty businessman who had been cheating on his wife Leslie and his mistress Monica back in the day. He had also apparently been drugging adoring daughter Laura throughout her romances with Scott and Luke. In the present day Laura thought she killed him (actually, Scott did it) and then lost her mind, while Rick's grandsons Lucky and Nikolas carted his dead body all around Port Charles like refugees from Weekend at Bernie's. When Rick appeared (along with Alan and Emily) to Monica and Tracy two years ago in a vision apparently brought on by consuming too much Pickle Lila relish he told them that not everything was the way it seemed when he returned to town in 2002. If ever a story had to be undone it's this one. And who wouldn't enjoy another round of the legendary Leslie-Rick-Monica triangle … or a reunion between Rick, Ginny and "Little" Mike?
AJ Quartermaine – I'm on the record saying that I had come to accept AJ's death last year because it seemed to bring to an end the era of murderous mobster Sonny Corinthos, who after years of tormenting AJ brutally shot him in the chest. But as time goes on, and Sonny continues to enjoy life, AJ's most recent "death" isn't sitting too well. Like Emily and Georgie this is another character that came to life during an important GH story – the complex Leslie-Rick-Monica-Alan quadrangle that was as popular with viewers back in the day as the tale of Laura and Luke. (Remember when Alan twice tried to kill Monica and Rick, or when Leslie hauled off and belted Monica, or when Leslie learned that AJ was Rick's child while helping Monica give birth? Ah, sweet memories …) AJ ought to be running ELQ and grudgingly aligned himself with Tracy to fend off the upcoming takeover attempt by the Cassadines. He should not be rotting in his coffin. Just think … wouldn't it have been wild if that bizarre hate sex that AJ and Carly indulged in one night had resulted in Carly giving birth to yet another Quartermaine heir? That would have changed everything on the show, arguably for the better.
Connie Falconeri – Connie isn't necessarily as important to the history of GH as the characters listed above, but I can't think of a bigger shock to the characters on the show right now than her unexpected return. That would also make palatable the idea of keeping on the canvas her cold-blooded killer, the fascinating and lethal Ava Jerome. (Maura West, the actress who plays Ava, is simply too good to lose.) Connie's murder was an ugly thing and an unsatisfying pay-off for those of us who invested years in her story. I would also like to see her son Trey Mitchell, who had been given away by Connie's alter Kate Howard when he was a baby, somehow return with her. The relationship of this mother and son had the potential to be one of the most fascinating in the history of daytime drama. It would also have been interesting to see in action the fascinating family that would have been formed had Sonny and his daughter Kristina married Connie and her son, Trey.
By the way, I chose not to include Alan Quartermaine on this list because I have finally gotten used to the fact that he is no longer around and I'm digging widow Monica Quartermaine's romance with Judge Walters, even though we almost never see them together. That said I wouldn't mind having him back, either. Since Edward's passing the Quartermaines have been in need of a temperamental patriarch. The mansion feels so empty without one.
_______________________________________
Ed Martin is the Editor of MediaBizBloggers where he writes the Planet Ed programming blog. He's also the television and video critic for MyersBizNet. He's written for The Huffington Post, Media Post, USA Today, Inside Media, Advertising Age, Television Week, TV Guide and Broadcasting & Cable .