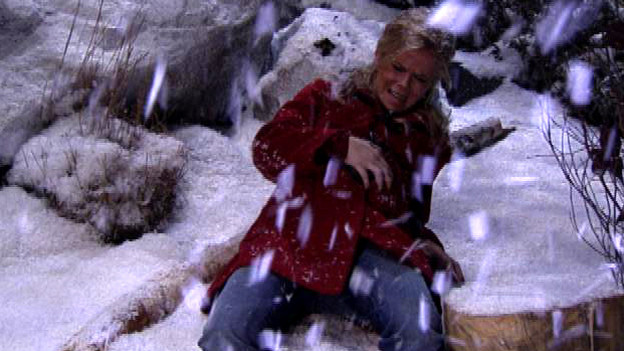 By Marlena De Lacroix
Recently I was asked by a fan why I am not posting much anymore. Here's why: Today on One Life to Live I watched a woman who had just delivered a baby graphically fall through ice and drown.  Not three months ago I had watched a
Does any TPTB on soaps, so desperate for ratings, actually have any moral sense at all, or even THINK anymore?   Do viewers suddenly crave "the thrill" of watching women die miserably?
woman on General Hospital get her head bashed in with an axe by a teenager, die and be secretly buried in the woods. Soaps are a lot of things, butthey are not snuff films.   
Why were Claudia on GH and Stacy and OLTL snuffed?  Because the writers of the shows convinced the audience the victims "deserved it."  Weren't both evil women? After all, Claudia (played by Sarah Brown)
kidnapped a "newborn" baby.  Stacy once stole bone marrow, but her big 'crime' was that  she secretly got pregnant (by one man) to lure her sister's man (not the one who impregnated her) to marry her.
Stacy and Claudia were people, dammit!  Killing isn't right … or funny!   And in America, suspected kidnappers and other criminals are entitled to due process of law!     
Gossip says that Stacy got killed because the actress playing her, Crystal Hunt,  persistently whined and was deemed by some the worst in daytime history!  I can just hear the nasty laughter.  Drown the bitch Stacy in the most graphic way possible!   And if it's in an icy pond, let's have her bob up and down before she sinks under the ice for good.
And  the man who runs ABC Daytime approved this death!  Why? Well, to begin with, it was February sweeps!  Claudia's was just after November sweeps. It's almost as if soap viewers now like watching acts of violence causing grisly death (specifically against women) for fun!
Before you write me, I know there have been grisly deaths on daytime.  Billy-Clyde on All My Children got washed down a river to one of his deaths.  Leo and Vanessa fell off a cliff on the same show.  On The Young and the Restless, Brad Carlton drowned while trying to save Sharon's son Noah.
And of course I remember the ugly death of Frankie Frame on Another World, a freak occurrence at the time and rumored to be a personal vendetta by the producer (a woman!).  But in 40 years of watching, I have never seen such graphic, ugly, downright nauseating deaths on soap operas as those of Claudia and Stacy.  On the same network, in only three months time!  You can tell how very desperate ABC is. Soaps have rarely had the grossly bad taste to make us watch actual acts of downright sadism on camera.
It's been a long time since the Women's Revolution of the 70s, when women writers like Agnes Nixon and Claire Labine created strong women characters like Erica Brooke and Jillian, who had were smart, indestructible and had careers.   In the days of classic soaps, characters like Joanne on Search for Tomorrow, Viki on OLTL, Kim on As the World Turns, and so many others had problems but illustrated the strengths of women by overcoming their problems. May I repeat:  Soaps used to be about the strengths of women.   Over the last decades, especially the most recent, women have become almost entirely  lesser beings on soaps, growing more and more pathetic as the ratings plummet!    
Remember, not very long ago Marty, Todd's long ago rape victim was "re-raped" on OLTL.  (Official  ABC Daytme logic:  'Cause she had amnesia and didn't remember the original rape???)  Remember how viewers like me and many of you Thinking Fans flipped out, while many others (I'd say a huge percentage were men) wrote me and said, "Is there a problem here, Marlena?  I don't see it."  Or worse: "Women have always been victims on soap operas."
That was only a year and a half ago!  Now we have women literally whacked as they were on The Sopranos (remember the execution death of Adriana, and the episode where Ralphie beat in the brains of a stripper?)  Soaps are not The Sopranos, a show brilliantly written so as to make you THINK about how wrong these deaths were!  ABC wants you to thrill to  them!
Think about how fast things are eroding in the daytime world and how downright inhuman the shows are becoming   Does any TPTB on soaps, so desperate for ratings, actually have any moral sense at all, or even THINK anymore?   Do viewers suddenly crave "the thrill" of watching women die miserably? And you ask why, as a Thinking Fan, I don't post much anymore. This is so below me, someone who loved and lived for the romance and love and emotional warmth of soaps for so many decades.  Now I am downright embarrassed to have ever been a soap fan at all.      .
P.S.  I heard OLTL held a huge party celebrating their move to the AMC studio the very same day Stacy suffered her ugly, disgusting, misogynistic drowning on camera.  I ask you, isn't there something VERY wrong here?
__________________________________
Photo credit:  ABC