Thinking Fans Comment Update: Jason laments, "I think the problem with soaps these days is they try to distance themselves from what they should be centered upon, which is love and romance, and turn to violence" … while Deep Dish,  favoring balance, suggests, "I think there's room enough on soaps for both the traditional romantic weddings as well as the bloody bride interruptus ones" … and more.  See Comments below. 
__________________________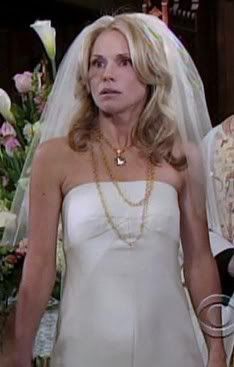 By Damon L. Jacobs
Savvy daytime fans know the value and vindication of the classic soap wedding.  But more and more this great tradition is being replaced with a trend that promotes gore and carnage:  The iconic bloody white wedding dress.
I, for one, fail to see the benefit or payoff for covering our heroines in blood.  It certainly can't.t be for shock value, since anyone old enough to remember Sissy Spacek in Carrie is no longer surprised by the contrast of innocence and red liquids.  In my opinion, this trend is one of many ways the current shows are sending a message of defiance into the faces of long-term viewers, as this once sacred and uplifting wedding episode is now frequently mired in violence and bloodshed.
And yet I can't help but wonder how others perceive it.  It used to be that viewers would get to witness a couple spending several years coming together, making up, breaking up, then overcoming emotional and diabolical obstacles to make it to the
As Coop's hemoglobin seeped deep into Beth's gown … a dying man's blood on her dress tragically seemed to give her new life, new courage, and continues to fuel her determination to stand up for herself now.
altar.  Once they finally did, it was a complete celebration of triumph over defeat, hope over despair, love over fear.  It validated our loyalty as viewers, and provided us with an optimism that things could turn out positively in our own lives.
The first weddings of Doug & Julie, Luke & Laura, Rachel & Mac, Reva & Josh, Hope & Bo were but a few examples of such wonderful occasions.  Can you imagine any of these events interrupted with blood and gore? Historically, the incidents of brides and blood are few and far between.
Iris Cory was infamously covered with her new husband Alex's blood on Texas after he was shot during their ceremony.  Years later, Iris became the shooter as she gunned down Carl during her step-mommy Rachel's wedding on Another World, thereby covering Rachel in, you guessed it, Carl's blood.
This recent era of soiled dresses, however, was ushered in by none other than the recently departed James Reilly.  He penned the gothic style New Year's eve 2004 wedding on Days of Our Lives between Kate Roberts and Roman Brady.  After taking vows, Roman was stabbed and "killed" by the Salem Serial Killer in the kitchen at their wedding reception.  Kate found his body, and proceeded to shriek and cry in front of her guests with her gorgeous wedding dress soiled in Roman's bodily fluids.
This newest wave of grisly gowns has also included Kate Howard's shooting during her wedding to Sonny on General Hospital, Sami Brady's covering with EJ's blood after he was shot during their wedding on DAYS, as well as Annie Lavery getting Erica's blood all over her dress when she stabbed poor Erica prior to her delusional wedding to Ryan on All My Children.
But perhaps the only ensanguined incident with any authentic psychological gravity took place recently during Beth Raines' wedding to Alan Spaulding on GL.  No one was rooting for this ceremony to occur, as we all knew her heart belonged to her young lover
Coop. Coop totaled his car on the way to stop their vows, and was pulled out bloodied and bruised by a back-from-the-dead Philip Spaulding.  Philip then rushed to the church to interrupt the wedding ceremony himself.  Beth collapsed in shock in Philip's arms, thereby resulting in her dress also getting covered in Coop's fresh blood.  As his hemoglobin seeped deep into her gown, it gave Beth a newfound strength and resolve to finally reject Alan, and rise up to defend her love for the doomed Coop.  A dying man's blood on her dress tragically seemed to give Beth new life, new courage, and continues to fuel her determination to stand up for herself now.
How do the Thinking Fans feel about this trend?  Are there other soap brides I have left off my list of bloodied brides?  And what is the deeper meaning behind the symbolism of these incidents?  The Soap Shrink wants to know what you think!
___________________________________________
Damon L. Jacobs is a family and relationship therapist practicing in New York City, and the author of  Absolutely Should-less: The Secret to Living the Stress-Free Life You Deserve.  He blogs regularly at www.shouldless.com.