Marlena has always looked down her nose at prime time soaps (at least those post-Dynasty and Knots Landing.)  Years ago at SOW I even wrote a column called "Who Needs Beverly Hills 90210?" and to my surrpise,  thousand of young fans wrote in and said, "We do! We do!" So although the new 90210 and Gossip Girl are not theoretically fodder for my Thinking Fans, I thought you all might enjoy a thoughtful, funny and intelligent read by my TV critic friend Ed Martin, on the season kickoffs of each show.  Aw come on, TFs, slum it!
                                                                                    Marlena
                                                                                    XXXOOO
_________________________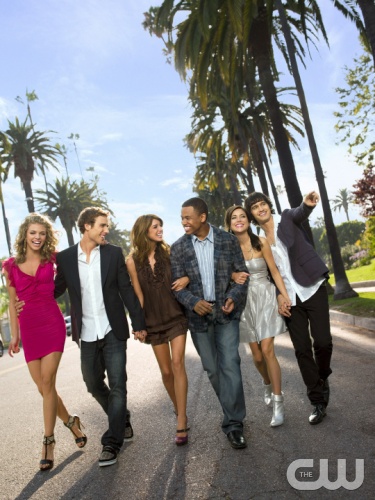 By Ed Martin 
I figure the reason why The CW chose not to provide advance review copies of the 90210 two-hour premiere is because, right at the start, one of the main characters was shown getting a hummer in the high school parking lot.
Can't you imagine the headlines? "90210 Blows!" "90210 Sucks!"
Come to think of it, the comments that would have followed in dozens of reviews might have drawn even more young viewers to the show.
As it happens, the contemporary continuation of the hot 90s phenom that began as Class of Beverly Hills, then became Beverly Hills, 90210 and was eventually known simply as 90210 isn't half bad. It's going to take more than a discrete scene of oral sex to shock the young viewers to whom 90210 is targeted, especially when, elsewhere on The CW's schedule, the worldly teens on the much improved Gossip Girl are saying and doing dirtier, sexier things. For example, on that show, pretty boy Nate Archibald (Chace Crawford) is now a man-whore, accepting money for sex from a ravenous cougar (played to irresistible perfection by Madchen Amick). Bitch princess Blair Waldorf, meanwhile, is more tart tongued than ever — so tart, in fact, that the dialogue given to actress Leighton Meester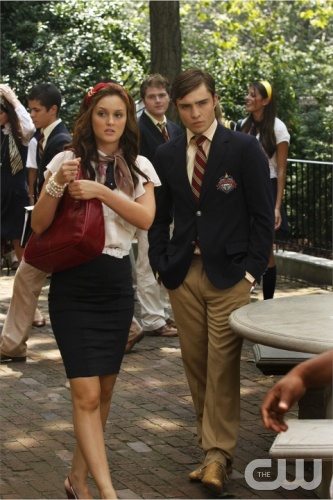 must have network censors in a state of perpetual
____________________
Leighton Meester, Ed Westwick in Gossip Girl
____________________ 
pucker. In the first two new episodes of the season, Blair referred to rotten Chuck Bass (Ed Westwick) as a "bass-hole" and cried "Oh my eff-ing God!" when she caught Nate and the cougar in the midst of a sweaty business transaction.
Regardless of one's sensitivities, which can't be very sensitive if one regularly consumes American media, The CW these days has much to celebrate. The 2008-09 season hasn't even started yet and the network has already blasted out of the gate with two improbable wins. Gossip Girl and 90210 are both enjoying respectable ratings and more critical support than anyone might have imagined. On the creative level, Gossip is showing all kinds of improvement over its feeble first season, and 90210, I'm pleased to report, truly feels like an organic extension of the classic from which it was spun, rather than a slapdash rehash. I'll admit that I am thrown by the fact that teenagers on both shows can brazenly breeze into bars and clubs and swill cocktails, and that they never seem to get drunk, even when downing the hard stuff. It is strange to see the entertainment, advertising and publishing communities excitedly support shows that position underage drinking as a glamorous adolescent fantasy. The alcohol thing might actually be upsetting if it felt remotely realistic. (On BBC America's Skins – the very best television series about teenagers ever — the kids secretly drink at house parties, then throw up, pass out and wake up looking like crap — just like in real life.)
All of the early good will the media has bestowed on 90210 is due in large part to its skillfully executed, multi-generational story structure. The kids are alright, but the grownups are pretty cool, too. Rob Estes and Lori Loughlin are nothing if not watchable as Harry and Debbie Wilson, proud parents of daughter Annie (Shenae Grimes) and son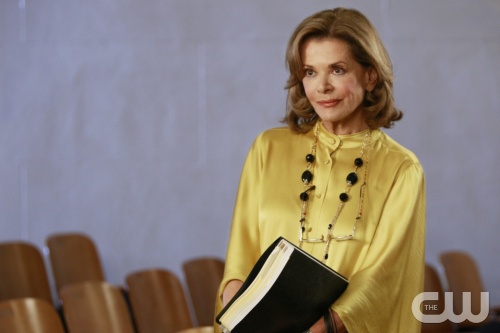 Dixon (Tristan Wilds). Harry, who grew up in Beverly Hills, has
____________________
Jessica Walter in 90210
____________________ 
relocated his family from Kansas City back to L.A. to become the new principal at West Beverly High School. They're all living with his mom, faded but fabulously wealthy B-actress Tabitha, played with high-camp hilarity by Arrested Development scene stealer Jessica Walter.
At school, Harry interacts not only with his kids and their new frenemies but with other adults who give 90210 a charge it might otherwise be missing: guidance counselor Kelly Taylor (Jennie Garth), visiting drama teacher Brenda Walsh (Shannen Doherty) and English teacher Ryan Matthews (Ryan Eggold). Tellingly, Garth and Doherty grabbed most of the media attention from the hot young babes in the cast during the weeks leading up to the show's premiere. (The fuss proved to be well deserved: Garth and Doherty didn't miss a beat resuming the roles that made them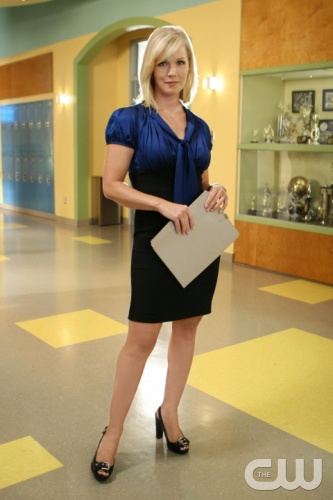 famous back in 1990. Their characters are now wise, mature young women.)
____________________
Jennie Garth in 90210
____________________ 
The appealing Eggold, meanwhile, has been at the center of the buzz since the 90210 debut. Clearly, viewers think he's way hotter than the young hunks on the show.
Keeping the welcome nostalgia vibe at full tremble, there are other BH90210 vets on hand as well, including Joe E. Tata as Nate, who has transformed his Peach Pit into a coffee house, and Ann Gillespie as Kelly's mom Jackie, still a mess. (Jackie's other daughter and Kelly's half-sister, Erin, attends West Beverly High and has issues of her own.) A character I presume to be the teenage daughter of Andrea Zuckerman-Vasquez is also on the canvas. In a nod to the fact that Gabrielle Carteris, the actress who portrayed Andrea, was much older than the rest of the BH90210 cast, Ryan in the series premiere joked that Hannah "looked 30."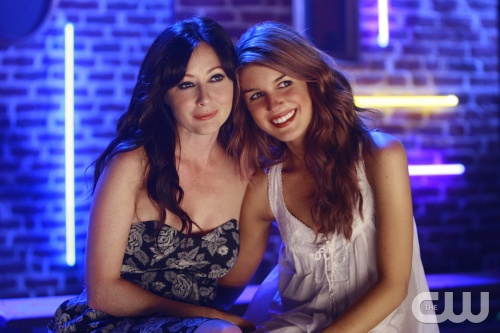 ____________________
Shannen Doherty (left), Shenae Grimes in 90210
____________________
My only concern at this early stage is that Doherty is scheduled only for a handful of episodes and Garth's status is described as "recurring." Even after the new kids catch on I think it will be the beloved veterans who continue to make the show glow. Here's hoping The CW can keep the old-timers coming. Then 90210 will remain truly distinctive and a show unlike any other.