PART ONE OF TWO PARTS
By Damon L. Jacobs
If there is such a thing as a modern day cowboy in New York City, James DePaiva would be it. He is brutally honest, impossibly handsome, jarringly tough, yet surprisingly sensitive.  And although you are more likely to find him driving his motorcycle around town instead of a riding a horse, you absolutely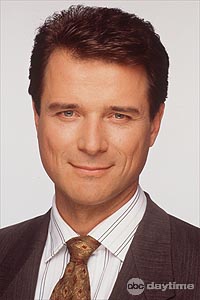 won't be able to resist his no-nonsense approach to reviewing the past, acknowledging mistakes, and looking forward to a brighter future.
Please read on, Thinking Fans, to learn how this shy boy from Livermore, California, became the audacious cowboy who rocked One Life To Live in the 80's and 90's. (and was perhaps the last quintisentially great soap romantic leading man.)   Then discover the lessons he learned from having to handle disappointment and defeat in the soap world.
I met James at a cafe on Manhattan's West Side on a gorgeous New York spring day. He came riding up to the restaurant on his motorcycle.  I didn't recognize him at first because his helmet covered his head, and I didn't know he drove a motorcycle.  We sat outside on the patio facing the street, where such OLTL actors as Mark Lawson strolled past. James paused every 30 minutes during our lengthy talk to feed quarters into the greedy parking meter. 
D:  How did you get into acting?
J:   Acting started in seventh  grade.   They needed boys to be in the play, and the girl I had a crash on was in it, so I said sure.  I was very shy, but once I got on stage I loved it.  I was a small character actor at the time.  But over the summer I grew eight inches so I became leading man in eighth  grade.  I didn't know there was any way you could do this for a living, and my father kind of established what I was going to
On the frustrating reality of the actor's life: "What's gonna happen is maybe one or two of us are going to fly to New York, we're gonna go test against everybody else they found throughout the whole country, and then they're gonna hire an actor that used to be on another show that just got out of rehab!"
be doing.  So I didn't consider college, I didn't consider acting.  When I was 15 my father said, "Would you like a car?" and I said, "Sure."  So he said, "Great, I found you one, and I found the job you're going to get to pay for it."  I went to [Read more…]