By Marlena De Lacroix  a.k.a. Connie Passalacqua Hayman
With all the cancellations these past few years, this old soap enthusiast  is thankful to have at least one soap to look forward to, and yes, cuddle up to in my afternoons. That soap is General Hospital, a doomed show I really want to see live on.  I watch
The biggest soap opera of all is the on-going cliffhanger of what will become of GH itself. I still want to have one involving  soap to look forward to every day, no matter how much I bitch about it.
every day, basically liking the day to day writing and production of the  episodes and the  performances . But of course as a critic, I still have objections to some of the overall stories.
For example:  Maxie is impulsive (such as when she slept with Franco) but she is not stupid.  She's way too shrewd to have gone to trial and to jail for any man, let alone Matt the amnesiac killer of the long dead Lisa Niles. Except for the wonderful Spinelli-ness (fighting to clear Maxie's name) of our adored Bradford Anderson, this story was a big, drawn out waste.  I'm so glad it's over. Then we have Jason staying emotionally away so long and being separated  from the pregnant wife Sam, in effect blaming her for rape by his twin-brother Franco.
Do I detect misogyny in that part of the Sam pregnancy story?  Sure, I knew the separation was a plot device to give Sam more time to bond with John McBain.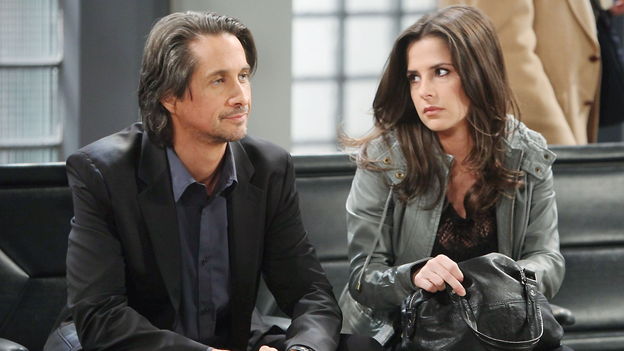 And even though Jason eventually came around and told Sam he could accept the baby (after the baby was delivered and "died") Jason distancing himself emotionally from his wife for so long  because she conceived the child (supposedly!) of his nemesis Franco, via rape, was essentially a whiff of something I never wanted to smell on an ABC soap again.
For a change, Jason is at least paying for something (as of this writing) by losing Sam after she found out that his thugs beat up McBain just after the delivery, causing, as Sam believes, the death of "her" baby. But will Jason ever be punished for his insensitivity to his pregnant wife? How long will Sam and Jason be apart?  Also, do you really think Jason will ever pay for the death of Franco?
Oh well, I can't help asking this question even in the middle of a friendly review: Think about it — has GH really changed at its core since Guza left? Oui, mes amies, it's better written, more entertaining and less blatantly offensive.  But Guza still casts a long shadow: witness more misogyny and the same old [Read more…]