Thinking Fans Comment Update: Jason laments, "I think the problem with soaps these days is they try to distance themselves from what they should be centered upon, which is love and romance, and turn to violence" … while Deep Dish,  favoring balance, suggests, "I think there's room enough on soaps for both the traditional romantic weddings as well as the bloody bride interruptus ones" … and more.  See Comments below. 
__________________________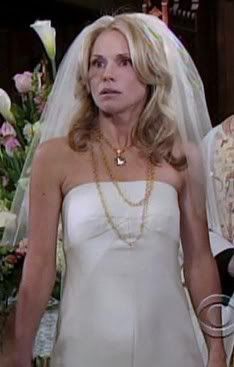 By Damon L. Jacobs
Savvy daytime fans know the value and vindication of the classic soap wedding.  But more and more this great tradition is being replaced with a trend that promotes gore and carnage:  The iconic bloody white wedding dress.
I, for one, fail to see the benefit or payoff for covering our heroines in blood.  It certainly can't.t be for shock value, since anyone old enough to remember Sissy Spacek in Carrie is no longer surprised by the contrast of innocence and red liquids.  In my opinion, this trend is one of many ways the current shows are sending a message of defiance into the faces of long-term viewers, as this once sacred and uplifting wedding episode is now frequently mired in violence and bloodshed.
And yet I can't help but wonder how others perceive it.  It used to be that viewers would get to witness a couple spending several years coming together, making up, breaking up, then [Read more…]